Agreements herald more science co-operation between France and New Zealand
31 March 2023
MEDIA RELEASE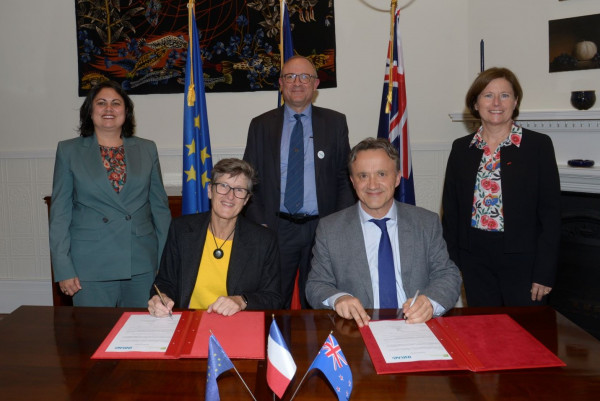 French and New Zealand science organisations have signed agreements this week that will boost joint scientific co-operation between the two countries in agriculture, climate, and the environment.
The agreements will strengthen exchanges of scientists as well as joint use of laboratory and other scientific facilities. They will also facilitate more collaborative projects and enhance career development, particularly for post-graduate students.
The four agreements were signed at the French Embassy in Wellington between the French National Research Institute for Agriculture, Food and the Environment (INRAE) and Science New Zealand, AgResearch, and Scion.
They were signed in the presence of Research Science and Innovation Minister Hon Ayesha Verrall, the French Ambassador to New Zealand HE Laurence Beau, the President of INRAE Philippe Mauguin, and senior executives from Science New Zealand, AgResearch, and Scion.
Chair of Science New Zealand David Hughes said the agreements would open the way for a tremendous boost for science with both countries sharing the very latest thinking and technologies.
"The closer co-operation illustrates how science and innovation must work if we want to address the world's biggest challenges. It must be multi-disciplinary, multi-organisational, and multi-national."
French Ambassador HE Laurence Beau said the agreements would make it easier for researchers from both countries to work on innovative solutions that would benefit everyone.
"Working to adapt land-based sectors to climate change has become increasingly vital for our world, and particularly for New Zealand after the recent cyclone and floods."
The agreements build on a history of scientific exchange between France and New Zealand that has been championed by the FAST (France Aotearoa Science Technology Innovation) group.
This week's agreements will help to accelerate cooperative research projects and the setting up of joint working facilities, and will lead to a greater sharing of information and technologies.